Survey Perception of risks in Can Tho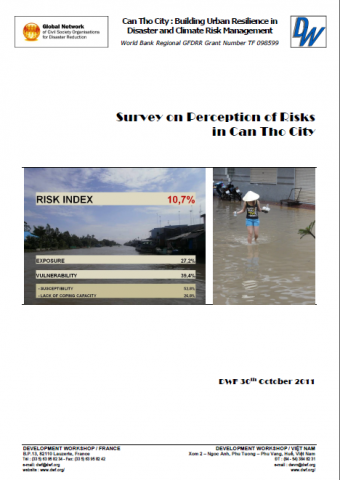 The survey  has been introduced today to Can Tho People's Committee, during the closing session of the¨project Urban resilience - Phase 1, organised by World Bank & Royal Haskoning Company.
The survey has shown that the level of risks in Can Tho is low, and that the coping capacity of the population is well adapted to the situation.  With some recomendations to reduce the impact of  localised hazards like whirlwind or bank erosion, the report recommends also more serious preparation to adress the impact of climate change, with reliable data (past, present on climate on long periods), more detailed - small scale level - localisation of impact of possible sea level rise, and more a wide consultation and participation of local communities.
The survey, based on groups discusions in 22 areas and families interviews ( 1 100)  has been evaluated as "subjective" by some local officials, for the reason that "the families dont know the reality of impact of natural disasters", and that "only the experts can evaluate seriously with their science the situation and prepare the city for the future". The recommendations of the recent Global Platform for DRR in May 2011, on fully involving communities to prepare plan for DRR & CCA, seems far from the local policy.