Indonesia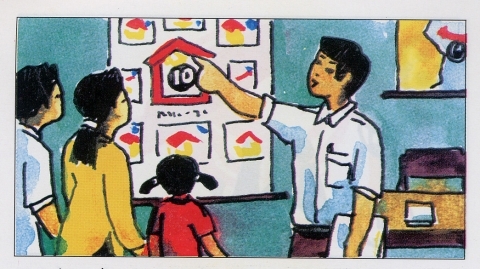 Post-tsunami 'Safe house' initiative
 In the aftermath of the 26th December 2004 tsunami that hit Aceh Province (Indonesia), in March 2005 DWF was approached to assist the British Red Cross Society in developing a community 'safe house' programme. Apart from clearly assisting the long term needs of families who suffered as a result of the tsunami in 2004, this programme provided DWF with an opportunity to evaluate the regional relevance of the skills and strategies developed by DWF in Vietnam.
DWF's assessment of damage caused by the tsunami clearly showed that lack of application of basic principles of safe earthquake resistant design and construction, combined with poor quality workmanship were major contributory factors in increasing the vulnerability of houses and of their occupants. The DWF programme addressed not only the short term need to ensure good quality reconstruction but more importantly, to develop the conditions in which future building by communities will continue to be done in a safe manner after the NGO supported reconstruction period was over.
Public and special interest group awareness raising about the importance of safe house design and construction, and how this can be achieved used a variety of communication materials, developed initially in English and then in Indonesian.
DWF designed the British Red Cross Safe House Community programme in Aceh province between 2005 and 2006, in a programme carried out by a specially recruited and DW trained Indonesian 'Safe House' team.
The concept: "Safe House  awareness + hands on Safe House skills"
Developing a partnership between builders and families building safe houses by and for themselves.
The Strategy
Promote a safe house message that is backed by practical SH skill at community level.
Householders made aware of the importance of safety.
Householders given the information to enable them to recognise and understand the characteristics that make their home safe.
Householders know which builders are trained in SH skills in the community.
Community builders trained in the skills of safe house construction. 
Actions
Key people (volunteers, leaders, teachers, etc.) in community are trained to make SH information available to families.
Information made available to the public about the need for "Safe Houses" and about the Safe House programme in their community.
Events: a series of community level actions/simple events that attract and stimulate attention & participation, and generate information exchange, planned with villagers and volunteers.
Villagers participate in applying SH Principles to building design (houses or public buildings)
People (+/- 50 people) trained in SH building skills in each community.
In about 35% of the villages, a SH demonstration building designed with community, will be built.
Builders able to help families build safely; give good practical SH advice to families over coming years.  
Who implemented?
7 SH 'community animation' team, (SH A) (animation about SHP, sessions on applying SH principles, event organisers with volunteers, etc.)
Leaders and volunteers working with and provide explanation to villagers.
7 SH Skills training teams(SH S) train potential local builders in SH Skills.
Trained Builders advise and build safely