Risk, vulnerability & poverty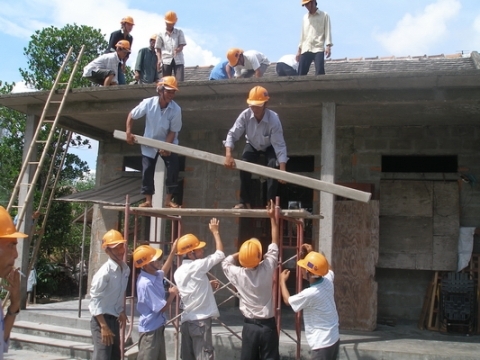 Reducing Risk: vulnerability reduction and damage prevention in the face of natural and man made hazards
Poverty, increased population density, urbanisation, climate change, and changes in building practices and materials, access to safe land are some of the many reasons why risk of disaster and human vulnerability are increasing around the world. And whilst the world mobilises in the aftermath of disasters, much of the damage that occurs in disasters comes from lack of action to reduce risk and vulnerability before the disaster happens. Actions to support prevention and vulnerability reduction need to be increased, and particularly in poor communities where vulnerability is greatest.
A root cause of vulnerability is poverty. The rich may have more to lose, but the poor are repeatedly the ones who suffer most, are more exposed to risk, and are living in unsafe places and in unsafe homes. The places they live in have poorer services and levels of support. When disaster strikes, proportionately the cost of recovery in social and economic terms is very high for the poor, and the end result is that poor families often find themselves in an even more vulnerable situation after a disaster. Many who live on the margins of poverty slip back into real poverty. In Viet Nam, families tell of losing their homes five times or more. Recovery from disaster diverts efforts and savings away from productive activities that can improve the situaion of the poor.
Vulnerbility and risk reduction are therefore critically important for the poor in any community, since avoiding the costs of recovery means that a family can focus on improving their situation.
In Viet Nam, where DW has supported the introduction of targetted credit for poor framilies specifically for the preventive stregthening of their homes, the high level of demand and good repayments have shown that poor families are very ready to borrow to strengthen their homes because they recognise that by doing so they have protected ther families and their income generation capacity.
In practice, precautions to safeguard the environment and property are too often insufficient. We collectively neglect that preventive action to reduce the risk of damage can be achieved at a fraction of the cost of rebuilding or repairing. The Red Cross says that 1 dollar invested on disaster preparedness is worth 25 dollars on disaster response (Asia Development, march 2011).  Post disaster rehabilitation may provide the environment to address greater safety before the arrival of the next disaster, but this is not enough.
DW and poverty and risk reduction
DWF works with communities and local organisations to strengthen their capacity to prevent damage and loss and to help in rehabilitation that reduces further risk.
DWF works at three levels in the context of natural and man made disasters:
risk reduction and damage prevention through awareness raising, collaboration with local communities, good planning and the application of sound techniques to resist future disasters.
rehabilitation of existing shelter and infrastructure whether damaged by war or natural causes, to make it safer, through training, practical demonstration and access to targeted credit.
preventive strengthening and reconstruction support through guidance and training  and technical support to reduce the risk of further damage and to ensure that peope will build for themslevs safely in the future.
Projects include :
Cyclone and flood damage prevention programmes in Viet Nam
In collaboration with Save the Children in Myanmar, initially developing a "safe schools" initiative, followed by a broader "safe house" campaign
Post earthquake support, strategy development and design for safer schools in Haiti with Save the Children US
Developing the long term community based ' Safe house' programme in Band Aceh, Indonesia with the British Red Cross Society and PMI (Indonesian Red Cross)
Training for post earthquake reconstruction and risk reduction in Iran, Guinea, Afghanistan and Pakistan
Assessment of the Grameen Bank housing loans programme in Bangladesh as a tool for risk reduction
Post war rehabilitation support in Angola and Kosovo, with training and support to local NGO and CBO and families