2010 UNDP/UNCHS/BSHF 'Housing & Urban Development South-South Transfer Award

Development Workshop France receives the UNDP 'Housing and Urban Development South-South Transfer Award - Special Mention'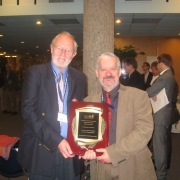 UN-HABITAT, the Building and Social Housing Foundation (BSHF) and the UNDP Special Unit for South-South Cooperation have announced the winners of the
Housing and Urban Development South-South Transfer Award
, a special joint initiative which seeks to recognise housing and urban development practices that have been successfully transferred to other countries in the global South.
The awards were presented on 25th November 2010 as part of the activities of the Global South-South Development Expo in Geneva, Switzerland, a platform for showcasing successful Southern-grown development solutions to address the Millenium Development Goals. The aim of the award is to identify, provide visibility, and honour those who have sucessfuly shared their projects and approaches internationally, thereby increasing the impact of the initiative.
The winner of the Housing and Urban Development South-South Transfer Award is Un Techo Para mi País (A Roof for my Country), Chile, awarded for mobilising thousands of youth volunteers and transferring its innovative approach to 19 countries across Latin America.
Development Workshop France's Preventing Typhoon Damage to Housing programme in Vietnam received a "Special Mention".
Guillaume Chantry (right), DWF programme coordinator in Viet Nam, and John Norton, DWF President, receive the 2010 Housing and Urban Development South-South Transfer Award - Special Mention (ILO, Geneva)
The Preventing Typhoon Damage to Housing programme has worked over many years with families and local governments in Vietnam to apply key principles of safe storm and flood resistant construction, both to existing structures and in new housing construction. The principles of disaster risk reduction are now being progressively adopted by other households, NGOs and government agencies both in Vietnam and in other countries, with the approach transferred to Indonesia, Myanmar and Haiti. The transfer has taken place at different levels, from policy to direct community engagement. In each case, strong communication and awareness-raising techniques have been a key part of the process and the principles for disaster-resistant construction and disaster risk reduction have been effectively adapted to each particular context.