1998 World Habitat Award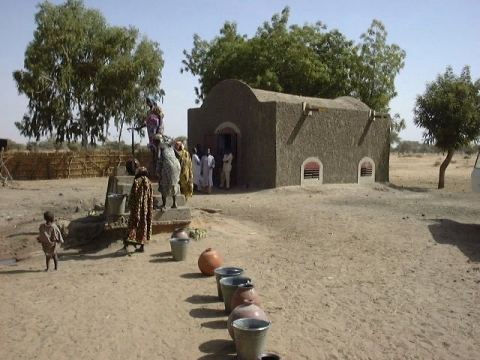 The 1998 World Habitat Award for the 'Promotion of Woodless Construction in Burkina Faso, Mali and Niger'
awarded to Development Workshop
DWF received the World Habitat Award in 1998 for its work in the Sahel countries of West Africa, developing and promoting "woodless construction" building techniques. Ongoing work currently includes assisting women potters (photo).
Woodless construction firing ovens save wood, improve quality and generate income for female potters.
The BSHF citation summary reads : "Woodless construction - vault and dome roofing using hand moulded bricks - was introduced into the Sahel in 1980, where increasing desertification has led to a lack of timber for traditional methods of roof construction. Local materials are used and over 700 local masons have been trained in the building method. The technique can be used for all sizes and types of buildings and has been assimilated into the building culture throughout the Sahel, due to its affordability and suitability for local needs. In addition to improved housing, the programme brings substantial income generation opportunities for local people and reduces the rate of timber depletion and environmental degradation."

Woodless Construction is the name used in the Sahel countries of West Africa for the construction of vault and dome roofed buildings using hand moulded mud bricks. DW introduced and promoted the use of Woodless Construction in Niger techniques and developed the training process to suit the needs of Sahel builders and inhabitants.
Woodless construction :
Protects the environment and saves wood
Develops both local skills through training, and income generation opportunities

Improves living conditions and infrastructure for local families and communities
Provides a sustainable technique to meet growing shelter needs with scarce resources
The same programme has also been recognized by the UN Scroll of Honour in 1992 and was listed by UNCHS / Dubai as "good practice" in 2001.
The Building and Social Housing Foundation and their spsonsored "World Habitat Award" seek to identify human settlement projects that offer sustainable futures to residents and which present practical solutions to current problems.The World Habitat Awards were established in 1985 by the Building and Social Housing Foundation (UK) as part of its contribution to the United Nations International Year of Shelter for the Homeless. Two awards are given annually to projects from the global north as well as the south that provide practical and innovative solutions to current housing needs and problems. Every year the award is presented to each of the winners at the annual United Nations global celebration of World Habitat Day.