Climate (change): The mounting costs of bad weather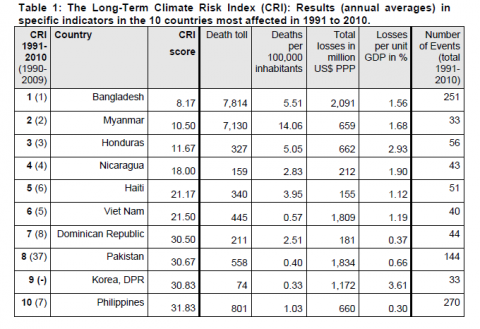 DURBAN, 29 November 2011 (IRIN) - Extreme weather events in the decade ending in 2010 claimed more than 710,000 lives and cost countries and people more than US$2.3 trillion as defined by purchasing power parity (PPP), says the Long-term Climate Risk Index for 1991-2010.

PPP is a currency exchange rate that compares the actual value of things in countries - for example, a farmer in India can buy more with US$1 than a farmer in the US.

The index, released on the sidelines of the UN climate change talks in Durban and produced by Germanwatch, a North-South watchdog initiative, looked at the impact of extreme weather events from 1991 to 2010, based on data from Munich Re, one of the world's biggest insurance companies.

Bangladesh, Myanmar and Honduras top the long-term index. However, there is some good news for Bangladesh - everyone's disaster poster child. More than 80 percent of the deaths in Bangladesh in the last decade occurred in 1991, when over 140,000 people were killed by a cyclone, but not as many have died since.

That subsequent extreme events have not caused as much hardship is an indicator that "it is possible to better prepare for climate risks and prevent larger-scale impacts from disasters", the authors noted.

The index also looked at 2010 separately and placed Pakistan - affected by severe flooding in that year - at the top, followed by Guatemala and Colombia.

"We have had floods again this year and we are not really prepared for extreme events of the scale we saw in 2010," said Farrukh Iqbal Khan from Pakistan, a lead negotiator at the Durban talks.

Sven Harmeling, an adaptation expert and author of the index, said the mounting costs of dealing with disasters made a case for the operationalization of the "loss and damage" work programme in Durban.

The decision to set up such a programme to understand the financial exposure of countries to the impact of climate change, and explore ways to avoid and reduce loss and damage, was taken at the last round of formal talks in Cancun, Mexico, in 2010.

A report prepared by the UN Framework Convention on Climate Change (UNFCCC) secretariat has highlighted what the programme should do, Harmeling said.

It has to identify the gaps in information to assess the different types of risk, loss and damage at various levels, and assess current practices and lessons learnt in doing that. Harmeling said he hoped that a clear work plan would emerge out of Durban to do this.

There are regional efforts underway to help countries prepare better for extreme weather events. The South African Weather Service (SAWS) announced that it was geared to helping Southern African Development Community (SADC) member countries by providing an early warning system to predict severe and extreme weather events in a collaborative project.

The Severe Weather Forecasting Demonstration Project got much impetus in 2007, when the SAWS was able to give Mozambique five days of lead time to prepare and evacuate people out of harm's way after its warning of Cyclone Favio.

"We are still working on it but we intend to build the technical capacity of the weather offices in all the countries, besides providing them with essential data," said Lawrence Dube, manager of the climate section at SAWS.

As happens every year, the first two days of the UN climate change talks were marked by the release of alarming weather data to set the tone of the conference.

The World Meteorological Organization (WMO) announced on Tuesday (the second day) that global temperatures in 2011 so far are the 10th highest on record; and higher than any previous year in a La Nina event, which has a relatively cooling influence.

WMO secretary-general Michel Jarraud said in a statement: "Concentrations of greenhouse gases in the atmosphere... are rapidly approaching levels consistent with a 2 to 2.4 degrees Celsius rise [by the turn of the century] in average global temperatures, which scientists believe could trigger far reaching and irreversible changes in our earth, biosphere and oceans."