Building types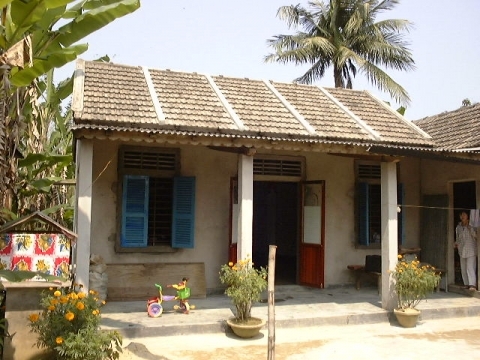 Houses in Thua Thien Hué Province and Central Viet Nam vary from one locality to another in both the materials they use and the details of their construction, but many of the village houses nevertheless have quite a standard layout.
The main house in coastal plains measures about 7 metres long by up to 5 metres deep. It is divided i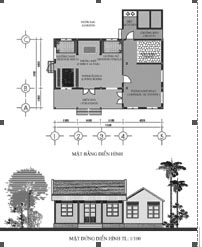 nto three 'bays' across its width. The right hand and left hand side bays are wide enough to take a double bed placed at the back of the room, and there may be a curtain and a window behind the bed. The central 'bay' is reserved for the family altar.
A table may be set in the centre or to the left hand side in the middle or front of the room. The main entrance is central, another door to the right opens onto the kitchen "lean too" structure, normally not considered to be part of the 'house'. The front of the house may have either three doors – this is the style in some communes – or one door and two windows.
In front of the house there is a covered veranda.
Outhouse buildings are usually behind and to the right of the main house.
Inside the main room, the roof frame is visible, and considerable importance is placed on the quality and beauty of the wood work. More recently some of the primary roof support is in concrete but usually decorated.
More recently a more 'urban' looking house is appearing in some of the commines, facing the road, it is narrower and has a front room and connecting back room, sometimes more. These 'urban' style houses often have very flat roofs covered by roof sheets, and becasue they are so flat, these roofs are highly exposed to damage from wind. Urbanisation is changing the nature or risk in buildings.