Urban risk assessments: an approach for understanding disaster and climate risk in cities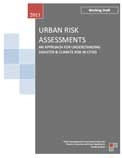 This paper proposes a framework for carrying out urban risk assessment, and seeks to strengthen coherence and consensus in how cities can plan for natural disasters and climate change. The paper: (i) presents the case for the need to better understand risks related to natural hazards and climate change in cities; (ii) proposes an integrated approach to practitioners for identifying areas; populations and assets most at risk from the effects of disasters and climate change; and (iii) provides preliminary suggestions for risk reduction through quantification of risk and implementation of preventative programs.

Annexes include:
Urban Risk Assessments: Mexico City Metropolitan Area, Mexico; Sao Paulo, Brazil; Jakarta, Indonesia; Dar es Salaam, Tanzania; Dakar, Senegal
Case Studies: Legazpi, Philippines; Sana'a, Yemen; Bogota, Colombia: Using the Urban Disaster Risk Index
Remote Sensing as a Tool for Assessing Urban Risk
Community Based Institutional Mapping and Other Participatory Approaches
Global, National and Local Responses to Disasters and Climate Change
Tools for Climate Risk Assessment
Sample Household Urban Risk Questionnaire
PAGER Construction Types Used for Building Inventory Development
Urban Risk Assessment Template
Key Definitions
Source(s): World Bank, the (WB) Publication date: 2011 Number of pages: 186 p.