Risk of poverty behind hydropower projects
VietNamNet Bridge – They received compensation for crops, trees, and career change worth of thousands to hundreds of thousands of USD from the Dakdrink hydropower project, but many households in the mountainous district of Son Tay, in Quang Ngai province, are still at risk of poverty.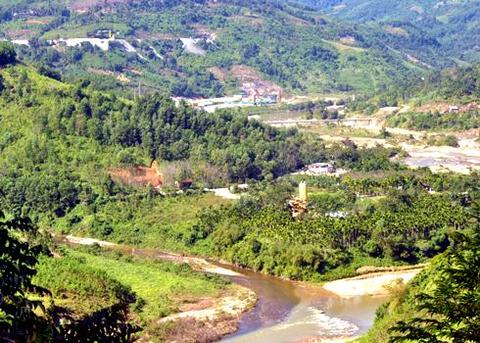 According to statistics of the Son Tay authorities, since early 2012, hundreds of households in the communes of Son Lien, Son Long and Son Dung have received compensation for crops, trees, and career transition allowans from the Dakdrinh hydropower project, with a total amount of more than VND73 billion ($3.6 million).

Paradoxically, many ethnic CaDong households sold their land and crops from the early days when the Dakdrinh hydropower project was just kicked off in 2000, at dirt cheap prices, so the compensation went to the hands of others. Other households who did not sell their land early are also at risk of poverty because they do not know what to do with the money.

Mr. Pham Hong Quyen, Chairman of Son Long commune, said for a long time the local residents lived in difficulties. With the large sums of compensation, they began thinking of coming in for life and spent money wastefully. Some people bought for each family member a motorcycle which cost tens of millions dong while others purchased karaoke devices, flat screen TV sets. Young people are eager in drinking.

Another concern is that many poor families whose land was recovered and received allowances for career change support but they do not know what to do.

Mr. Dinh Van Meo in Son Dung commune said his family received VND66 million ($3,300) compensation for land from the Dong Truong Son road project, which runs to Dakdrinh plant.

"Getting the money, we sold four more buffaloes and cows to upgrade our house and bought two motorbikes (over VND28 million or $1,400/unit). The allowances for career change support was shared to my children," Meo said honestly.

Mr. Pham Tan Hoang, Chairman of Son Tay district, said the district has established the Steering Committee on Migration and Resettlement. The committee has cooperated with relevant bodies to inform locals about the hydropower project "but there are some people who were fooled by others to sell land in the area of compensation," Hoang said.

To rectify this situation, from now on, Son Tay district will pay compensation buy giving land and houses in the resettlement areas to locals and encourage them to deposit their compensation money at banks to earn interest monthly.

Dakdrinh Hydropower Plant was kicked off in January 2011. The project is located in the communes of Son Long, Son Lien and Son Dung in Son Tay district (Quang Ngai) and KongPlong district in Kon Tum province.

The plant has a capacity of 125MW and the total investment of 3423 billion. Under the plan, the first turbine will generate power in September 2013 and the second turbine will be put into operation in December 2013.