Nature, socioeconomics and adaptation to natural disasters: new evidence from floods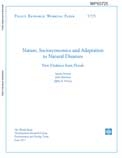 This article's authors analyse the determinants of fatalities in 2,194 large flood events in 108 countries between 1985 and 2008 and use them as new data source to analyse the role of socioeconomic factors in determining fatalities from 'natural' disasters.

This analysis demonstrates that income is negatively associated with the frequency of floods and, conditional on their magnitude, the fatalities they cause in developing countries. However, for developed countries it proves that increased income is associated with more fatalities, both directly (conditional on flood occurrence and magnitude) and indirectly through an increase in the frequency and magnitude of flood events. It also highlights that the effect of governance on flood frequency and fatalities in developing countries is U-shaped, with improvements in governance reducing the numbers of floods and deaths when governance is weaker but raising them when governance is stronger.
Source(s): World Bank, the (WB) Publication date: 2011 Author(s): Ferreira, Susana; Hamilton, Kirk; Vincent, Jeffrey R. Number of pages: 49 p.