More money, better money needed for DRR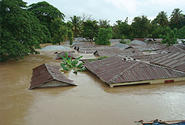 By Jan Kellett, ODI

Much more is needed to make international disaster risk reduction (DRR) efforts long-lasting and effective. Key to this improvement is shifting the balance from financing standalone projects towards integrating risk into the heart of vulnerable countries' development.

This change in direction is clear in the mid-term review of the Hyogo Framework for Action – the global community's 2005-2015 blueprint for advancing DRR.

In a little over 18 months, a grand gathering will meet in Japan to review 10 years of this framework, and decide on the future of global efforts to reduce disaster risk. Fittingly, the World Conference on DRR will be held in Sendai, the northeastern city that was so badly affected by the 2011 tsunami.

It is also a more-than-suitable venue because Japan - one of the most high-risk countries in the world for natural hazards - has also been one of the largest donors of aid to DRR.

The Overseas Development Institute (ODI), together with the World Bank Global Facility for Disaster Reduction and Recovery, will launch a report in September that examines how the international community has contributed to financing DRR, how much has been spent, where and - crucially - for what reasons.

A snapshot of this information was released at the Global Platform for DRR earlier this year, painting a rather bleak picture of DRR financing as a low priority, with funding highly concentrated in a few countries. Considerable scrutiny is needed of the adequacy, sustainability and equity of the money spent.

The data suggests a reasonably sustained but modest volume of $1 billion a year to DRR over the last three or four years. Modest because it is a fraction of what the international community commits to other issues - for example one tenth of spending on peacekeeping and about one fifth of food aid. It also highlights the very high volumes spent after disasters, compared with investment before they happen.

FRANTIC COMPLEXITY

A partial reason for this weak financing is because there are actually very few dedicated financing mechanisms for DRR.

The Global Facility for Disaster Reduction and Recovery is probably the only source of pooled funding that focuses exclusively on reducing disaster risk. Managed by the World Bank, it has received $322 million since 2006 - roughly $60 million each year.

This leaves around $900 million of DRR financing to filter through a complicated range of channels. This is partly due to the nature of the aid system, which fragments financing into a myriad of delivery routes according to its purpose. It is then disbursed to a vast range of different actors (U.N. agencies, international NGOs, national governments, the private sector, civil society etc). Such frantic and often unhelpful complexity is of course nothing new.

The fragmentation is further complicated by the nature of the work itself, which has two broad components: dedicated DRR work, including setting up legislative frameworks and building crisis-response institutions and systems; and the more lengthy integration of disaster risk into development work.

The 2013 Global Assessment Report from the U.N. Office for Disaster Risk Reduction (UNISDR) tells us there has been some progress in the former. Much more needs to be done with the latter.

A third reason for the patchy nature of DRR investment is that donors have often seen it as a humanitarian issue, and confined it to emergency departments, where it is weighed down by short-term perspectives and annual financing rounds, with little connection to long-term development and its larger budget.

It is a somewhat perverse state of affairs when the international aid system advocates for national governments to put risk at the heart of development, while many parts of it have failed to do so themselves . There are some good signs, though, with quite a few governments and institutions making strides to change this dynamic – this must be supported and encouraged.

DOMESTIC RESPONSIBILITY

A point of departure for improvement is the way DRR is currently financed. Do we have the right tools available to support risk reduction led by national governments? Do we need to retain flexibility in the system? Or do we need more structure to support change, and better evaluate impact? And what will it take to push through reform?

International aid is, of course, limited. Traditional donor nations have been under pressure in recent years, and there is little likelihood of substantial additional spending in the near future.

But financing for DRR does not need to be constrained to traditional sources.

There are considerable funds outside the conventional system that could be better brought to bear in reducing disaster risk: emerging donor nations, the private sector and individual contributions to name three.

However it is national governments that are responsible for managing disaster risk - from reduction through to response and recovery - and it is here the 'heavy lifting' is expected.

Some countries have invested heavily in moving beyond preparedness to reduce risk. The Philippines is a perfect example.

A forthcoming ODI case study considers the achievements the country has made in advancing the disaster risk agenda, formulating a comprehensive DRR law and responsible institutions, spending $1 billion annually from domestic resources, and raising awareness of the impact of disasters across society.

Yet even here there are still issues to address in implementing the full range of activities under the new act, developing the necessary range of integrated early warning and information management resources, and ensuring change occurs at a local level.

A second question is effectiveness, and how to improve it after eight years of DRR work under the Hyogo framework. A third is who should be doing this work? And fourthly, what is the business case for making risk a core part of development, and ensuring sustainable international support for DRR into the future?

PRESSURE FOR RESULTS

The recent Global Platform for DRR suggested strongly that we are now in the implementation phase. Delegates made it clear they are keen to move beyond rhetoric. National platforms have been set up, legislation created and institutions developed – now results are needed.

Global policy is starting to shift towards risk. It seems that the successor to the Millennium Development Goals could make the reduction of disaster risk a goal or an indicator of successful development.

The most recent positive sign of this was the High Level Panel's recommendation to include DRR within an overarching goal for reducing poverty. It may not have satisfied the ardent disaster risk activist, but it is already better than the MDGs, which didn't mention disasters at all.

In addition, climate adaptation financing is increasingly likely to fund disaster risk reduction as a core target. Six years ago, no adaptation project had DRR as a central goal. By 2011 15 percent of all funding was dedicated solely to DRR, and the flows of adaptation money are slated to increase.

One final question might be: Do we wait until the next big disaster to hit, or do we act on these opportunities now to stop it happening?