Mekong Delta: Alarm raised over Tien River erosion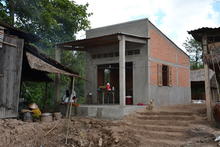 The southern province has announced its concern over riverside erosion in three districts along the Tien River after flooding triggered by heavy rains decimated 1-hectare of land, threatening thousands of households in the area.
Le Van Hung, chief of Dong Thap's Flood and Storm Steering Committee Office, said that increased flooding had led to 18km of erosion in 17 communes across the province and that water levels would peak this month.
Currently, more than 1,200 households are located in high-risk landslide areas, within 20 metres of the river, in Hong Ngu, Thanh Binh and Chau Thanh districts and require evacuation.
Trieu Van Dang, a resident in Tan Binh Commune's Tan Phu A Hamlet, said his house used to be 40 metres away from the riverside, "but it is now so close to the river that my family are forced to sleep at a neighbour's house. I'm really scared of being submerged".
Dinh Xuan Hoang, deputy director of the provincial Department of Construction, said that the province has proposed the ministries of Agriculture and Rural Development, Planning and Investment and Finance allocate VND334 billion (US$16 million) to build five re-settlement areas.
While waiting for replies, Hoang said the province has allocated VND60 billion ($2.8 million) from the local State fund to build a 16-hectare residential area in Thanh Binh District's Tan Binh Commune. The area is expected to supply accommodation to 300 households.
Currently, each landslide-prone household has received VND5 million ($240).
Note : DWF is currently working in this area as Technical partner of IFRC-VNRC Reconstruction Programme in Mekong Delta