Hue, Vietnam : a lot of buffaloes struck by lightning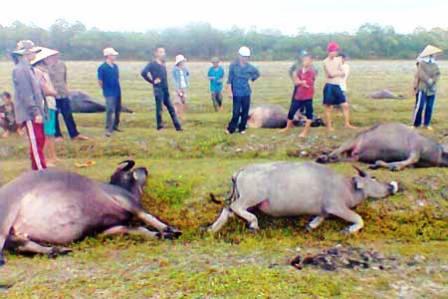 Mr. Nguyen Dai Vui, Chairman of Phong Dien district, said that on May 28-29, 15 buffaloes of 8 families were struck by lightning during rainstorms.

On the afternoon of May 28, nine buffaloes of four families were killed by lighting on the field. The next afternoon, six buffaloes of four families were struck to dead by lightning on the road. Of the killed buffaloes, there were eight pregnant ones.

"This is the first time that such a large number of buffaloes have been struck by lightning in our district. We will give financial assistance to families that have dead buffaloes," Mr. Vui said.

Mr. Tran Ngoc Loc, chief of the local department of agriculture and rural development, said that buffaloes are priced from VND15 to VND18 million ($700-900). These families will be granted with VND2 million ($100) for each dead buffalo.

Dead buffaloes were sold to slaughtering houses. "Buffaloes that are dead by lightning are not toxic," Loc said.