Guide to climate change adaptation in cities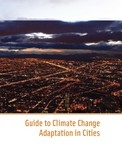 This document deals with how climate change adaptation can be integrated with disaster risk reduction (DRR) in cities. This publication states that climate change will increase the frequency at which some natural hazards occur, that is why cities need to be resilient. As a resilient city is one that is prepared for existing and future climate impacts.

An increasing number of cities around the world have begun to plan for climate change by developing standalone climate plans or incorporating climate considerations into existing plans, policies, and projects. In addition to this, adaptation efforts in cities could co-benefits for climate change mitigation and for local economic development.

Furthermore, this document asserts that climate change will place unique burdens on the urban poor, residents of informal settlements, and other vulnerable groups, such as women, children, the elderly and disabled, and minority populations. Therefore, it expresses the fact that adaptation is not a onetime effort but an ongoing cycle of preparation, response, and revision.
Source(s): World Bank, the (WB) Publication date: 2011 Number of pages: 100 p.Download the Guide