Floods kill 11 in central region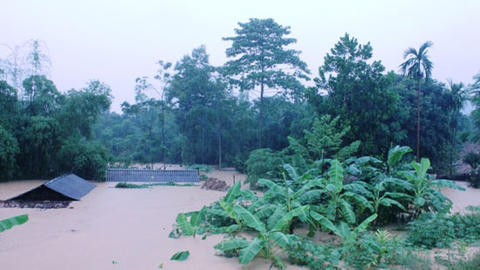 The recent floods in central provinces from Thanh Hoa to Ha Tinh have left 11 people dead or missing.

Heavy rains also caused water levels in rivers to increase dramatically, breaking part of a dyke. Thousands of houses and hectares of crops have been destroyed and losses are estimated to amount to thousands of billions of Vietnamese dong.

Local authorities are currently implementing urgent measures to cope with floods and ensure public safety.

According to the Thanh Hoa provincial committee for flood and storm control, as of September 7, large-scale flash floods had killed five people in the region, swept away 100 houses and submerged nearly 2,400 houses and more than 20,000 hectares of rice and subsidiary crops, with losses estimated at nearly VND640 billion.

The flood control committee said river water levels are receding and dykes are likely to be broken. Meanwhile it has also mobilized forces to be on guard around the clock and prepare the necessary equipment to deal with any emergencies.

Four people in Nghe An province are reported dead or missing and homes and crops have been destroyed due to flooding and heavy rains.

Floods and thunderstorms killed two in Ha Tinh province and inundated around 1,500 houses and 820 hectares of crops.

Ha Tinh province allowed pupils in inundated districts to stay home from school and is now working on dealing with the consequences of the flooding.

The National Steering Committee for Flood and Storm Prevention and Control has asked these provinces to closely monitor the water levels of rivers and take measures to cope with flash floods and landslides.
DWF is working in these provinces for the DIPECHO funded project with the Ministry of Construction