Equity takes centre stage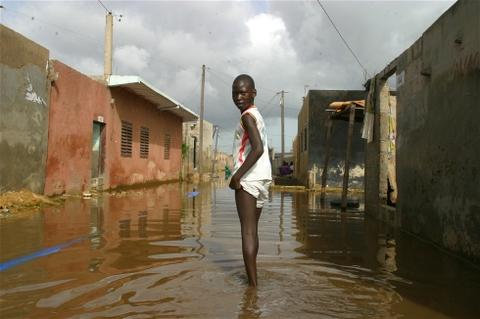 Some more vulnerable than others
JOHANNESBURG, 30 May 2013 (IRIN) - As aid officials haggle over ways to reduce developing countries' disasters risks, they are increasingly looking to target the inequalities that make some communities more vulnerable than others.
These inequalities fell under the spotlight at the recently concluded Global Platform for Disaster Risk Reduction in Geneva, a meeting that considered a
successor to the Hyogo Framework for Action
(HFA), the global plan to make the world safer from natural hazards, which concludes in 2015. The new action plan, the Hyogo Framework for Action 2 (HFA2), is still under negotiation, and a key part of these talks has explored how to address inequality and discrimination.
There is "growing consensus" among NGO and UN agencies that tackling "common root causes - discrimination (social exclusion) on all sorts of bases (religion, caste, ethnicity, national origin, gender, age, etc.) - and unequal access to many kinds of resources, especially land grabs" has to be the core issue addressed by the post-2015 development agenda, noted disaster expert Ben Wisner told IRIN via email.
But Tom Mitchell, head of the climate change programme at the UK's Overseas Development Institute (ODI), says addressing inequalities is not new; it was on the agenda when the HFA was being discussed in 2004. He says the fact that the issue is still alive reflects the failure of development strategies, such as the Millennium Development Goals (MDGs), to eradicate these inequalities.
"Back on the agenda"
NGOs like Oxfam and ActionAid, which have advocated for these issues to take centre stage, have raised the topic again at the Global Platform.
"Countries with higher income inequality have populations that are more vulnerable to climate change, natural hazards and conflict," Debbie Hillier, Oxfam's humanitarian aid advisor, told IRIN. The poorest communities often live in fragile environments like river banks, and in housing constructed with cheap building materials. They lack insurance to cover losses.
The Global Network of Civil Society Organisations for Disaster Reduction (GNDR), in its "Views from the Frontline 2013" monitoring programme, said that 57 percent of all the people it interviewed indicated their disaster losses are increasing. Among the poorest groups, 68 percent of people reported higher losses.
"There is real growing momentum on the inequality issue," said Hillier. Besides eradicating poverty, she says, aid officials also want to "address the excessive wealth… [which] entrenches the systems, power dynamics and institutions which keep people poor."
The focus on inequality "is starting to drive our thinking in every field - resilience, social protection, climate change," she added. "This is starting to drip into the HFA2 discussion."
"We need to go back to basics and create conditions, particularly for [the] poor and excluded, to demand and enjoy human rights"
Harjeet Singh, ActionAid's international coordinator for disaster risk reduction (DRR) and climate change adaptation (CAA), said," There is a growing recognition across all UN agencies that merely tweaking the system and policies won't help anymore. We need to go back to basics and create conditions, particularly for [the] poor and excluded, to demand and enjoy human rights."

But the Global Platform "fell short" in promoting DRR as a right. "Unless we tackle the unequal and unjust power that creates inequalities and make people vulnerable, we cannot sustainably deal with the impact of disasters, climate change and conflict," Singh said.

Kevin Watkins, the former head of the UN Development Programme's (UNDP) Human Development Report, is making a case for equity-based development targets after the MDGs end in 2015.
He pronounced in a recent lecture, "Today, inequality is back on the agenda."

In a recent statement, UN human rights experts also called for a cross-cutting development goal on eliminating inequalities.

The High Level Panel (HLP) on the post-2015 development agenda is expected to release its report with its list of recommendations later today.

Focus on risk

But the experts and activists at the Global Platform also called for bringing DRR to the development agenda. Risk was absent from the MDGs, say Mitchell and Hillier. DRR was included in the first draft of the HLP report, says Mitchell, but was missing in a subsequent draft.

"In particular, the risks from climate change, natural hazards and conflict need to be combined," said Hillier.

Wisner wrote: "A future set of DRR guidelines (what has been referred to as HFA2) should be coordinated or even integrated with re-cast MDGs, SDGs [Sustainable Development Goals], CCA initiatives (climate change adaptation) and support for skillful conflict management (PEACE)."

Data management

A statement from the GNDR says: "HFA2 needs a paradigm shift in order to bring community resilience at the heart of the framework." It would like to see an emphasis on a "bottom-up approach."

It also called for the establishment of national databases on damage and losses, community capacities and resources. But accounting of data losses is fragmented at the moment, says ODI's Micthell. The global community lacks a common understanding of what a disaster is and what kind of loss should be accounted for.

This would require establishing a way to distinguish a disaster - an event that "overwhelms local capacity" - from "an accumulation of individual, small-impact events such [as] one basement flooded," said Debby Guha-Sapir, director of the Centre for Research on the Epidemiology of Disasters (CRED). For instance, she says, "a series of small road accidents added up is not the equal to a mass transport disaster, or endemic levels of disease is not same as an epidemic".

ActionAid's Singh points out that declaring an event a "disaster" continues to be a "political exercise in most countries. The use of data and accounting methods varies from country to country. On one hand, developing countries struggle to account for uninsured and indirect losses, mainly due to extensive risks from 'everyday disasters'. We are now also grappling with how to account and address the issue of non-economic losses (and damages) due to climate change impacts."

ODI's Mitchell says there is an urgent need to address this problem.