Hails storms batter north, central Vietnam, winds swirl in south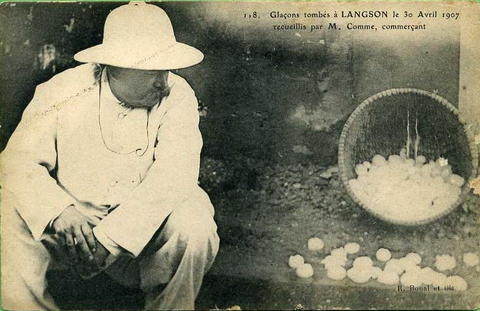 Hailstorms injured at least five people and damaged around 4,300 houses in the northern highlands Monday and 90 others in the Central Highlands Tuesday while a storm destroyed more houses in the south.
Hoang Thai, director of the agriculture department in the northern province of Cao Bang, said the hail hit four districts from 8:30 to 10:15 p.m. .
Some of the ice pellets were the size of a human fists, locals said. .
They said the ice broke through the roofs and damaged the insides of their houses. Thai said the hail was both the most violent and widespread ever in Cao Bang. .
Five people were injured in Tra Linh District, and nearly 4300 houses and other buildings were affected. Some 110 hectares of crops were damaged in Ha Lang and Ha Quang Districts. A hailstorm swept away 86 roofs in Lam Dong in the Central Highlands within half an hour Tuesday afternoon, and another storm destroyed 12 others the same day. .
Local officials said the latter caused a blackout for several hours and traffic jams on a national highway. .
In Dong Nai Province near Ho Chi Minh City, a rainstorm, thought to be the biggest ever to hit the province, collapsed or blew off the roofs of more than 230 houses and damaged crops. Authorities are assessing the damage and providing relief. .
Thanh Nien News