More funds needed for disaster risk reduction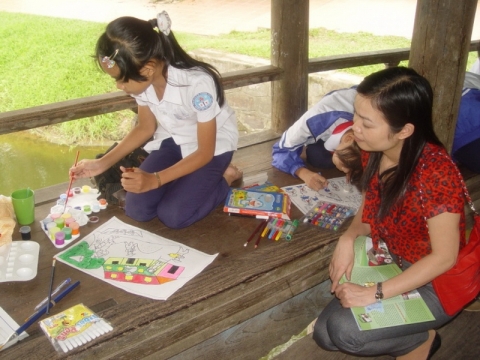 THUA THIEN-HUE — In the ancient Thanh Toan tile-roofed bridge in central Thua Thien-Hue Province's Thuy Thanh Commune, several pupils from Thuy Thanh Primary School are drawing passionately. The kids are too busy to talk as they take part in a competition on climate change and disaster risk reduction.
Such activities have been regularly organised for more than two years in the central province which is most affected by disasters, including floods and storms.
La Hong Yen, 9, is drawing a picture of the world divided into two parts, before and after, to show the negative outlook of climate change: deforestation and waste discharge.
"The world will be a black colour in my picture," Yen said, adding that pupils at her schools were taught how to prepare for storms.
She said she was also taught to swim and other skills through activities like games, singing and storytelling.
The project to improve community ability for community-based disaster risk reduction was implemented two years ago. The main purpose of the project was to increase people's awareness and local authorities' risk management, especially in rural and remote areas, with an aim to limiting losses of assets as well as people and assisting sustainable development.
In reality, the risk management projects based on communities were launched in 2001 in Thua Thien-Hue and Quang Tri provinces. In 2003, the projects were implemented in nine provinces in the central region; and in 2008 in 23 provinces in the Red River Delta, northern mountainous areas and Mekong Delta region.
More than 6,000 communes nationwide have implemented the project.
However, consequences and losses caused by disasters have been heavy as communities lack awareness on preparing for floods and storms.
Viet Nam is one of 10 countries in the world which have been regularly affected by disasters due to its special conditions. Floods, storms, landslides, droughts and sea encroachment have occurred every year, destroying and taking the lives of the poor and most vulnerable people including children, women, farmers and fishers.
"As many as 500 people are killed annually in the country due to disasters, causing losses of 1.3-1.5 per cent of the country's total GDP per year," said Deputy Ministerof Agriculture and Rural Development Dao Xuan Hoc at a Disaster Risk Reduction (DRR) National Meeting in central Da Nang City.
The event was part of the national week on DRR held by Joint Advocacy Network Initiative (JANI), including non-governmental organisations of CARE, Development Workshop of France (DW), Plan, Save the Children, ADRA, Centre for International Studies and Co-operation, World Vision and ActionAid. It was held simultaneously in Nghe An, Kon Tum, Thua Thien-Hue, Quang Tri and Da Nang City with the overarching theme "Invest for Safer Tomorrow, Increased Investment in Local Action".
Peter Newsum, country director of CARE in Viet Nam, said the country had been considered as a typical example of timely rescue works after floods and storms.
"However, Viet Nam needs a consistent and sustainable investment into efforts to reduce risks among communities in localities," he said, adding that the country had proved that enhancing investment into disaster risk reduction activities could improve local communities abilities to respond and reduce the effects of disasters.
"Disaster risk management was closely linked to climate change, exposing a question of awareness on better preparations as disasters come," Newsum said.
Nguyen Van Gia, Head of Emergency Programme Sector from Save the Children Organisation in Viet Nam said increasing awareness for children was necessary asthey could be most vulnerable to disasters.
"The project provided experiences in preventing disasters with a focus on skills of first aid, escape routes and finding safe locations in schools," Gia said.
"Pupils who are provided with the training have skills and abilities to respond to disasters, not only for themselves but their families and communities."
DW country director Guillanme Chantry said a survey on local governance for DRR in 69 countries including Viet Nam showed there was anticipation and hope but also frustration and many concerns.
"The situation is getting worse, not better, as 57 per cent of local authorities and communities at most risk report that disaster losses are increasing," Chantry said.
Local action was not taking place at anywhere near the levels required to achieve the goal of a substantial reduction in disaster losses by 2015, Chantry said. Progress at national level was not being matched by progress at local level.
Surveys of local capacities for DRR in the country's 17 provinces received the same comment: "We have the capacity and plans for action but we lack financial resources."
Chantry said the survey indicated that losses from natural disasters were increasing.
In a commune in coastal Thua Thien-Hue Province which faces annual floods and storms, the budget for disaster prevention and relief was less than US$1 per household, Chantry said.
"This amount was increased in case of actual disasters but it is insufficient to cover prevention activities, losses and damages."
Chantry said DRR should be allocated more funds, mostly for the poor in rural areas including the highlands.
"Viet Nam has achieved great success in DRR for policy, organisation and planning for 10 years. However, more resources are needed to implement this strategy at local level."
Funds were needed to assess plans and to fund practical measures to reduce the impact of disasters in a climate changing context, he said.
"We should consider DRR as an investment not a cost."
Chantry said the Government, provinces, communes with international support, public private partnership and full participation of vulnerable communities should work together in designing and implementing DRR plans for the next 10 years.