Farmer and "tragedy" behind golf-course projects
VietNamNet Bridge – The Ministry of Planning and Investment has submitted to the government, a golf-course development plan to 2020, under which the total number of golf courses in Vietnam will rise to 118.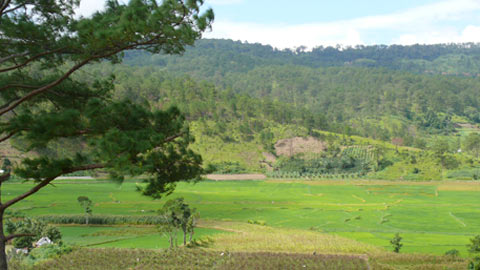 The K'Ren golf course at present.
However, there is a fact that many licensed golf course projects are idle though thousands of hectares of land are revoked, while local farmers lack land for cultivation. VietNamNet's correspondents report of this situation in several provinces.

Hiep An commune in Duc Trong district, the Central Highlands province of Lam Dong is located along the National Highway 51, adjacent to Da Lat resort city. With that advantage, the commune has up to three golf courses, half of the total number of golf courses scheduled in Lam Dong province.

The first golf course, as part of K'Ren tourism zone, covering 440 hectares is located at the commune's center. The golf course of the Da Ron tourism zone covers part of the land of Hiep An commune. The third golf course, which belongs to the Sacom resort, also uses around 40 hectares of land in Hiep An.

The foreign-invested K'Ren golf course was licensed in 2007 but it is not implemented yet. At the time VietNamNet's correspondents visited the site on August 9, the golf course was still bare.

Hoang Hong Quang, Hiep An commune's chairman, told VietNamNet that the local authorities have allocated land to two of the three golf courses projects, including 122 hectares to the K'Ren project.

Quang said that the investors of K'Ren golf course, the Han Viet Co., Ltd., has received only 25 hectares of forestry land. Farmers who own the remaining 97 hectares of rice field have not handed over their land to the investor.

"We have called for people to give the land to the investor, but they have protested fiercely. They said if they give their land to the golf course project, they will be jobless," Quang said.

K'Sau, the official in charge of agricultural affairs of K'Ren village, Hiep An commune, told VietNamNet that the K'Ren golf curse is located in a valley, surrounded by a primary pine forest and two-rice crop fields. The rice field in K'Ren village used to be an example of high-quality rice producing model in Lam Dong.

K'Ren village has 220 families, totaling nearly 1,000 people who are K'ho ethnics. Local people complained that the golf course project has seriously affected their lives since it claims the village's entire agricultural land, including 97 hectares of two-rice crop land.

K'Sau said that local farmers did not accept the compensation level of VND18-24 million ($900-1,200) per 360 square meters. They questioned local officials that their income is already low, if their land is revoked, what will be their sources of living?

"Even if they have compensation, they will build houses, buy motorbikes and spend in other things. What would happen after they spend all of the money?" K'Sau questioned.

"The lesson from the neighboring Da Ron golf course is still hot. We do not want to follow their wrong step," K'Sau added.

Many K'ho people in Ron village had to sell out their cattle and became jobless after selling their land to the Da Ron golf course project, because there is no land for cultivation or cattle breeding.

"We have submitted our petition against the K'Ren golf course to the government, the Committee for Ethnic and Mountain Affairs and the South Korean Embassy. We only want to preserve our land. Taking rice land for golf course development is contrary to the government and the Party's policy on stabilizing economic life of ethnic people in the Central Highlands," said Mr. Dagout Ju, one of the 94 people who signed the petition.

Hoang Hong Quang, Hiep An commune's chairman, admitted that if this golf course project is implemented, his commune will suffered from the shortage of land for cultivation, high unemployment rate and social disorder.

Last October, the Party Committee of Lam Dong province instructed the provincial government to revoke this project to avoid adverse impacts on local people. However, the instruction has not been performed.

Hiep An commune's Chairman Quang said: "The investor has recently asked us to hand over 122 hectares of agricultural land for them but our commune authorities do not have this right. We have asked the district government to answer them".

The K'Ren golf course is part of Da Lat Resort of a Korean company. This is designed as a 36-hole golf course, with around 500 villas. It is one of the six golf courses which will be built from now to 2020 in Lam Dong province, under the Vietnam's golf course development plan to 2020, issued in November 2009.